Mallorca team building – 3 reasons to try it out
What team building activities do you usually do? We try different things. Some are smaller, some bigger. The latest one is our Mallorca trip. 14 of us got our hand luggage ready and left to this beautiful island for the weekend. This was already the second time similar team building happened in our young company and we would like to share few insights on what we have learnt from it.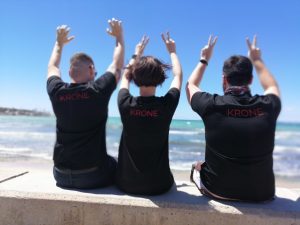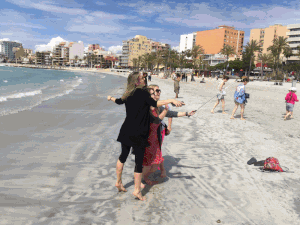 1. PROXIMITY
Yes, when you leave for couple of days with a group of people you are kind of forced to be together. Especially if you go abroad. It might sound harsh but that's the beauty of it. Of course, smaller groups are formed naturally and that is actually another benefit of this kind of team activity. You get a chance to get closer to people you usually do not have the opportunity to spend time with. You might realize the person you thought you wouldn't be able to find one topic in common is actually your closest ally, you just didn't have the chance to discover this in an office environment.
"I've always thought friends are the people you grow up with, that you picked up along the way while growing up and stayed with you. I was wrong. I found real friends among my colleagues. It is nice to get to know colleagues outside the usual working day, to see their true selves as normal people whom I now consider to be my friends."  
Michal
2. LISTENING
14 people is quite a group. It's enough to have just two strong personalities in the team and you might have a problem. You need to know when to step back and listen to others in order to keep peace in the family. In our group some people are introverts, some extroverts, some are something in between, everybody likes different food, has different taste in music, in other words we are all unique with different personalities and different needs. That's why it was so important to listen to each other and put the egos aside.
"I don't usually get to spend much time with many colleagues as most of them are working on different projects outside of our office. It was great to be around them and get to know them better." 
Naďa
3. SPEAKING UP
Sometimes you need to speak up to feel comfortable about certain things. If you feel you've been overruled in every decision and you simply keep it for yourself frustration might kick in. Expressing your opinions and feelings in such relaxed environment is a great way to practice assertive communication skills.
These are just some of the advantages of this kind of team building. Without a complicated analysis I can say we had a lot of fun together and we will remember the moments we spent together for a long time. These kind of activities might not be for every team but we strongly recommend to consider pros and cons it could bring your team. Put the strangers together with no chance to leave and you might get surprised how well it works out.
A certain level of group management is of course needed, otherwise the whole idea might backfire.
Our advice? 
Plan in advance. Listen to the people. Enjoy and be ready to improvise 😊
Check the photos from our team buildings in the highlights of our👉  Instagram account.